Yarrbat Place wins UDIA Award for Excellence 2010
Designed by CK Designworks, Yarrbat Place won the Special Purposes Living Award for its urban resort-style retirement village.
The retirement village comprises of 42 generously sized, individually tailored apartments and villas.
Landscaped gardens provide a sanctuary-like environment, while luxurious fittings and features, such as stone bench tops, fully ducted air conditioning, heated floors make Yarrbat Place comfortable all year round.
Built to a 6-star energy rating, Yarrbat Place is a perfect example of an environmentally responsibile design that doesn't skimp on style or comfort.
10 Point Pre Sales Checklist
Many apartment projects rely on pre sales of up to 70% of a project's value to trigger the approval of finance from a funding institution to ensure the project proceeds. This can result in the expenditure of large sums of money on consultants' fees, legal costs and permit applications; a risky investment if the pre sales aren't achieved.
Read More
Save space by building up
Save space by Building Up. The Melbourne Weekly talks to Robert Caulfield of Caulfield Krivanek Architecture.
Read More
Growing Cities – A Vegi-Tecture
According to the United Nations Population Fund, more than half of the world's population was living in towns and cities in 2008. They predict that almost 5 billion will live in cities by 2030. It is the largest urban growth period in history with Africa and Asia being the greatest centres of urban swell.
In Melbourne alone 6,800 households have chosen a "concrete change", to live in a city apartment, as opposed to a "tree" or "sea" change.
Although it might seem practical and trendy there are some serious side effects of city living such as being disconnected from nature; and the mere act of walking down a busy city street can fracture our concentration. This stands in stark contrast to the effect of walking in the quiet of parks and bush land.
Read More
Chinese mayor takes closer look at our city
Robert Caulfield played host to Nanjing mayor, Ji Jiang, during a recent visit to Melbourne.
In the lead-up to the World Youth Olympics being hosted by Nanjing in 2014, Mr Ji was keen to check out Melbourne and see why it's judged one of the world's most liveable cities..
Read More
Rolling out the fine China for mayor
CK Designworks played host to a delegation of officials from the Jiangsu province of Nanjing, China who came to see what it is that makes Melbourne such a liveable city.
In addition to a tour of some of Melbourne's key sporting precincts and residential developments, meetings with acting lord mayor, Susan Riley, Ted Baillieu and Governor Alex Chernov, along with a round-table discussion about Melbourne's world-class position when it comes to liveability were also on the agenda.
Read More
How downturn in Dubai led to projects in Nanjing
Robert Caulfied reflects on how unfinished projects in the Middle East following the fall of Dubai have contributed to its success in China.
Read More
Lean, green tower of power
CK Designworks has designed a 24-storey industrial and commercial building in China that could become a model for similar buildings elsewhere in the world.
The building, which is being a called 'a high rise factory that is one of a kind', aims at new levels of sustainability and environmental conservation for industrial buildings.
Read More
World Heritage Masterplan Features in The Age
CK Designworks' concept design for the world heritage site in Nanjing, China featured in the AGE on August 2011.
Together with ERM they will undertake the planning of a 40 square km historic zone listed by UNESCO. Including landscape, transport infrastructure and three significant buildings.
The article outlines the company's success to provide creative solutions to protect the ancient locality from the growing tourist industry.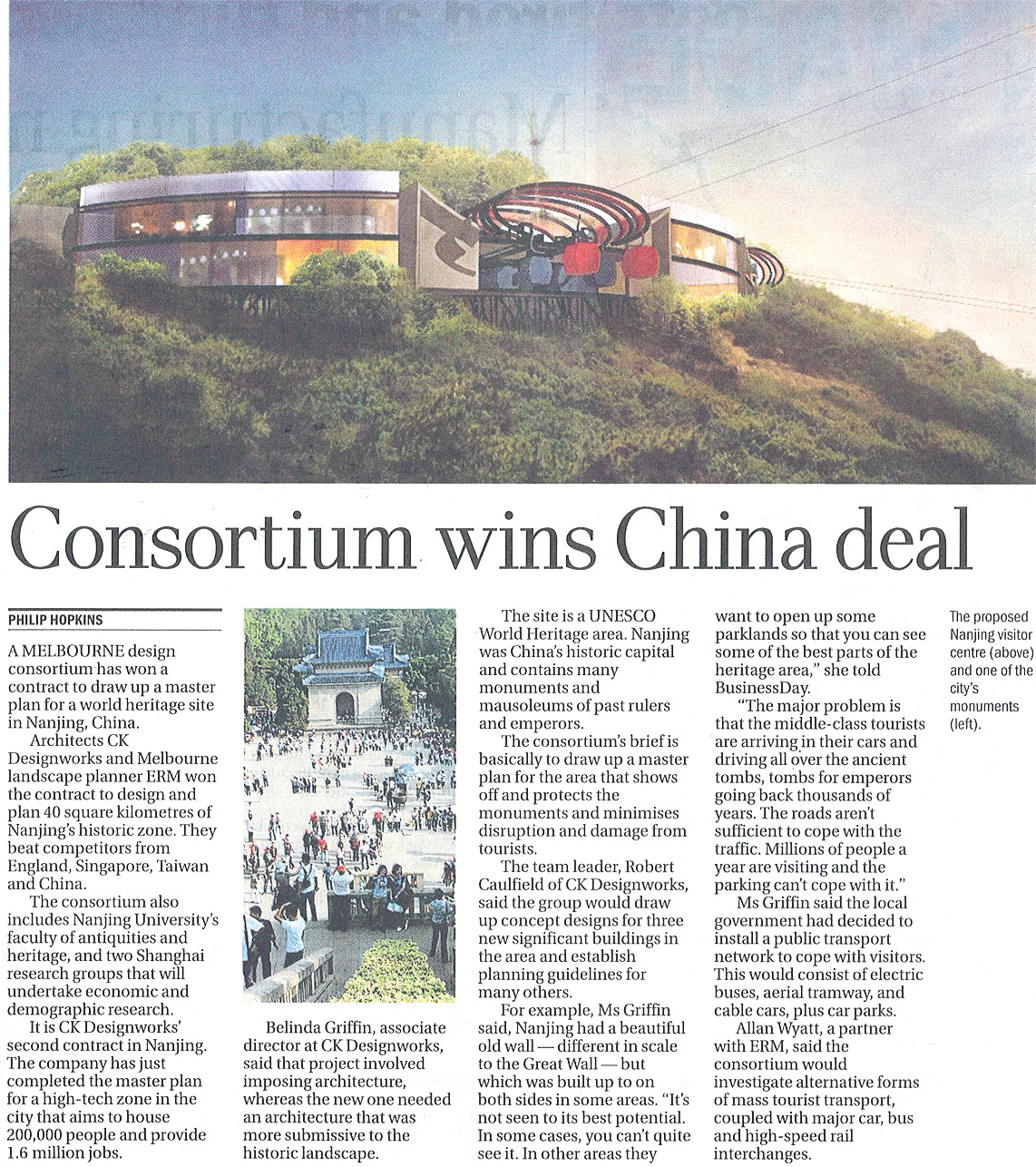 Crystal Gardens design features in New Scientist