Robert Caulfield & Ivo Krivanek: Marking a 40 year milestone as partners of one of Australia's leading architectural firms
On April Fool's Day 1978, Robert Caulfield and Ivo Krivanek started their architectural practice in the front room of Ivo's Hawthorn home. 'We looked very professional,' remarks Robert, 'except if clients needed to use the bathroom, they stumbled across a normal, chaotic family home, beyond our office.' Forty years on, the founders of Caulfield Krivanek Architecture, can reflect on an enduring and successful partnership, that has seen them collaborate on over 3000 projects both locally and overseas.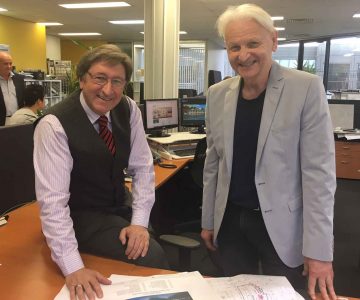 Robert & Ivo in their Camberwell Office
Read More
Currently in conceptual stage, the Melbourne SkyLoop could transform the way Melbournians move around this wonderful city. Recently featured by Channel 9 6pm News, the project is gaining interest and momentum. If you have any thoughts or comments, please contact us.

Watch Robert Caulfield talk with Alicia Loxley about the proposed Melbourne SkyLoop

Channel 9 News featured CKA's Melbourne SkyLoop concept in July 2018
Lake Bellagio Resort in Daylesford, Victoria, featured in Ballarat Courier and Domain.com.au
CKA in Jan-Feb 2018 Australian Ageing Agenda
In the Jan-Feb 2018 issue of Australian Ageing Agenda, CKA's Robert Caulfield discussing the possibilities of the new National Disability Insurance Scheme (NDIS).
Read More
A face lift for older facilities
A recent article by Robert Caulfield in the Aging Agenda discusses how maintaining existing facilities can keep a well run aged care business in demand.
Donwood Community Aged Care Services $9 million Upgrade on Track
Donwood Community Aged Care Services in Croydon is adding and refurbishing 35 rooms with substantial upgrades to provide a much needed boost to aged care facilities in the area which has a growing ageing population. When the project is completed in October 2017, Donwood will be one of the best equipped aged care facilities in Victoria and will have accommodation for 105 residents, all in the their own spacious rooms.
Read More
Welcome to the first edition of baCKchat
We've had a spectacular start to 2016 and are working on some great projects both locally and overseas.
Read More
Winner New Building Award ACAA National Congress 2005
When the members of Sandringham's Fairway Hostel management committee decided it was time to extend the 30-bed aged care facility they had built in 1995, they knew exactly what they wanted.
Read More
Melbourne Architects design new city for China
Melbourne architect CK Designworks has presented a masterplan design for a 20 kilometre square hi-tech city to be built in the Pukou district of Nanjing in Jiangsu Province.
The city, which will include housing for 200,000 residents, industrial developments and commercial sectors and is to be built on a combination of greenfields and existing low level light industrial development, is one of the largest design projects ever undertaken in the world.
Read More