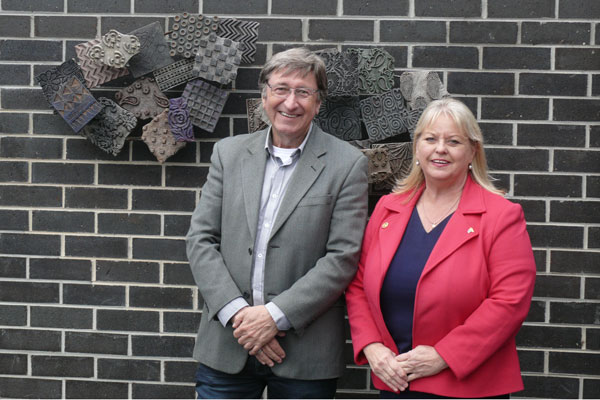 Robust house a "dream come true"
By Danielle Kutchel
A new house in Cranbourne promises to provide dignity and security for residents with a disability.
The Robust Home has been purpose-built for its residents and is the end result of years of planning by Purposed Housing Australia and the ONCALL Group.
The home is packed with unique features to meet challenging behaviours from residents, including reinforced walls, solid doors set into steel frames, high ceilings, high set windows with external shutters, and steel-framed leather furniture for easy cleaning.
Each client will have their own studio bedroom and ensuite, decorated to their tastes.
The house includes a number of sensory and visual features too, including a stunning mural along the kitchen wall and an outdoor shower in the backyard.
Anna Fleming, director of Purposed Housing, said it had long been her dream to provide this type of house for her clients.
She and her husband have worked in the disability sector for more than 40 years, and from their experience knew what sort of space was needed for residents with high complex needs.
"We didn't want anything clinical; we wanted it to be very homey, very warm, very inviting, with lots of sensory and interactive features that would assist the men to be as independent as possible," she explained.
"We wanted it to feel like a home that they would love coming home to and their families would be able to come and enjoy. What we're trying to do is encourage the families to feel part of the home; they can have a barbecue outside and have their family celebrations here."
Robert Caulfield, managing director of Caulfield Krivanek Architecture which worked with Ms Fleming to design the house, said they had to negotiate some complex regulations to build the house.
"It was like a maze of regulations and people but we worked through that over a period of around six months of planning.
"We didn't want people going past saying, 'that's where the disabled people live'; we wanted it to look like any other house from the street."
City of Casey Mayor Amanda Stapledon was present when ground was broken on the house last year, and cut the ribbon at its official opening this month.
She said she was pleased to see the way the project had come together.
"The very fact that they're giving dignity and respect to people with a disability, and we're also bringing comfort to their parents and carers who want to know what happens to their child when they're no longer here. This is their forever home – how fantastic," she said.
She added that the council is starting planning for similar builds into the future, including looking into how allowances can be made in building regulations to allow for better use of space for residents with a disability.
Faizal Izzedeen, whose son Shiraz will be one of the new residents, said the house had lifted a weight of worry from his shoulders.
"One of the most important worries for a parent of a child with disability is trying to get them set up for their future for the rest of their lives. In the case of Shiraz, finding him accommodation was not easy.
"They've done a fantastic job here, it's a dream come true."
Article originally published 19 June 2019 in Star News