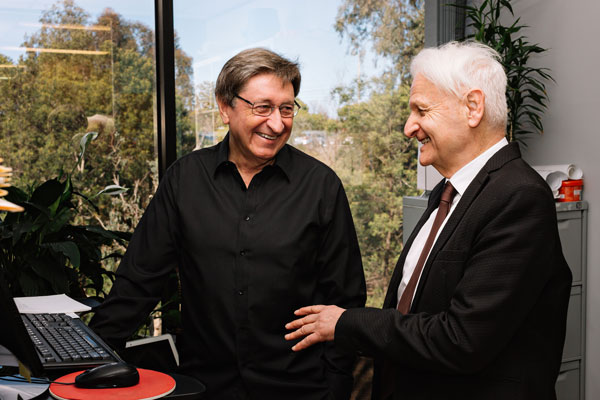 Robert Caulfield & Ivo Krivanek: Marking a 40 year milestone as partners of one of Australia's leading architectural firms
On April Fool's Day 1978, Robert Caulfield and Ivo Krivanek started their architectural practice in the front room of Ivo's Hawthorn home. 'We looked very professional,' remarks Robert, 'except if clients needed to use the bathroom, they stumbled across a normal, chaotic family home, beyond our office.' Forty years on, the founders of Caulfield Krivanek Architecture, can reflect on an enduring and successful partnership, that has seen them collaborate on over 3000 projects both locally and overseas.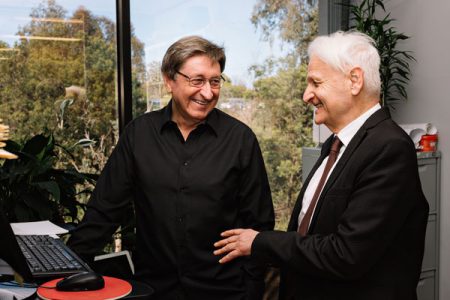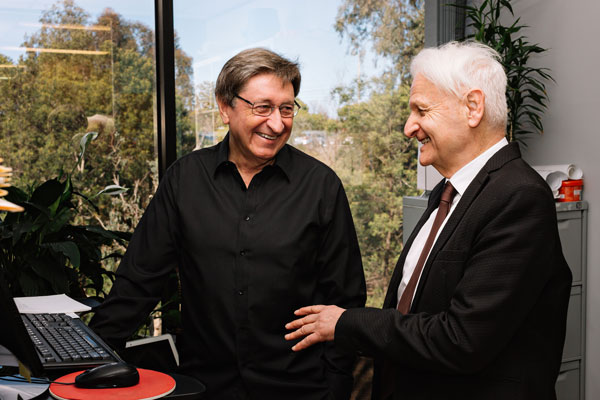 Robert & Ivo in their Camberwell Office
As the driving force behind one of Australia's most enduring architectural practices, Robert and Ivo's broad portfolio demonstrates an impressive suite of homes, aged care and retirement residences, multi-level apartments, commercial and tourism projects. On the international stage, they have master planned cities for Chinese provincial governments and tycoons, and developed multi-level apartments in Dubai, and across China.
Both Robert and Ivo look back over the last 40 years fondly. They attribute their strong business and personal relationship to a mutual appreciation and respect for each other's strengths, allowing them to find a unique balance that proved successfully both creatively, and in the running of their business. "We were able to approach things from different aspects, but we never found our ideas were in conflict with each other" says Ivo.
Beyond their award-winning projects and busy practice, both men have made lasting contributions to their profession over the last 4 decades. Also in 1978, Robert founded the Archicentre building advisory service, that he went on to manage for 31 years. During the 1990s he was the National President of the Australian Institute of Architects, and provided strong leadership throughout this difficult economic time, guiding architects with sensible advice and his optimism for the future. In 1995, he became involved in KidSafe, an organization that works to prevent injuries in and around the home. In 2002, Robert was awarded the prestigious Australian Government Centenary Medal, for his services to architecture. Amongst all this, he's travelled extensively, lecturing and presenting papers promoting the 'business of architecture'. Outside this world, Robert's had an energetic community involvement in the Western Bulldogs Forever Foundation and is a keen sailor.
Ivo has developed an international reputation for Computerised Design and Image Rendering. 'Ivo is the world's best at computerized 'rendering',' remarks Rob, 'Each rendering is photographically perfect, and Ivo's creative design skills are second to none. It's why he's in demand from all over the world.'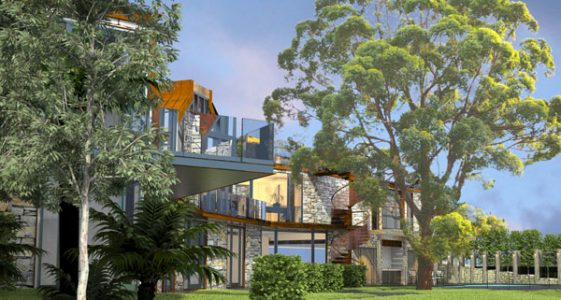 A 2018 computerised render (Source: Ivo Krivanek)
Ivo recalls the early days in their practice with fondness for the old ways. 'Forty years ago, I used Staedtler HB pencils, drawing everything by hand,' he says. 'Now the computer and ingenious software is my sophisticated 'pencil.''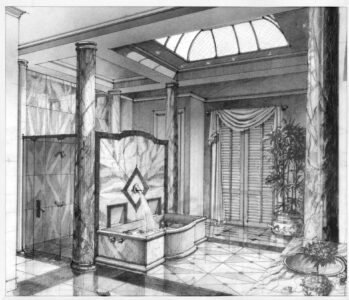 A 1987 hand drawn architectural render (Source: Ivo Krivanek)
Coupled with his incredible talent for drawing and rendering, over the years, Ivo has come to love every stage of the project from concept to completion. "I remember waiting for Ivo to join us for a team meeting one afternoon," Rob says "he arrived about 20 minutes late with paint on his hands and through his hair. When we questioned him as to what he'd been up to he declared that he'd been working with a painter on getting the right finish. It shows his deep involvement in the whole design and building process, and it gave some of our staff a good laugh!"
Four decades on, the pair have seen numerous technological developments within the industry, as well as many architecture trends and styles. "We have our favourites of course," says Robert "some of those from the early days, because they are ageless – in design and materials, and they have their own style." "Buildings convey a lot about their owner, or the people who use them, and while your outlook might change with time, I always enjoy designing properties that communicate to the environment around them" remarks Ivo.
Both Rob and Ivo, still have a passion for what they do. More recently, they have both enjoyed mentoring young architects within their firm and are actively involved in all aspects of their business from designing sustainable suburban homes to aged care and retirement facilities, as well as visionary apartment and retail spaces. Robert has been instrumental in the Melbourne Skyloop concept, and continues to provide the public with invaluable home purchasing and renovation advice through resources such as his Home Inspection Checklist, and Home Renovation Cost Indicator.
As for the future … "Architects tend to take a long time to mature professionally, so the best is yet to come!" jokes Ivo "I'm always excited by new projects and the challenges they present – I think I am sometimes like a child with a new box of Lego … I just can't stop until it's finished!