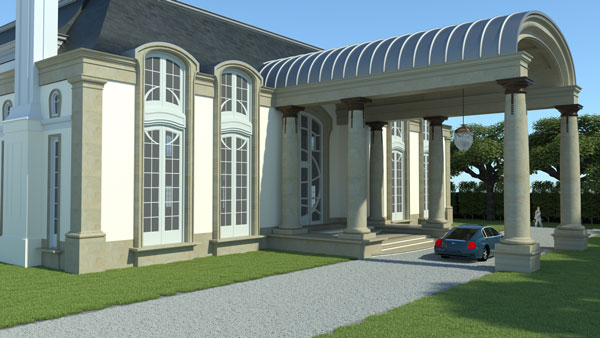 Controversial Toorak block: the mega mansion planned for $40m site
EXCLUSIVE
The couple who controversially demolished a Toorak mansion, and is now trying to sell its empty block for $40 million, has revealed plans for the elaborate home they intended to build in its place.
Wang Hua and Xiao "Kylie" Yan Bao had to can their plans to create "one of the grandest homes in Toorak" after encountering difficulties getting capital out of China to fund the $18 million build, their architect Robert Caulfield told the Herald Sun.
But whoever buys the 16 St Georges Rd property could now fulfil the plans — if they have deep enough pockets.
A render of the new mansion Mr Wang and Ms Bao planned to build at 16 St Georges Rd, Toorak. Source: Caulfield Krivanek Architecture
The planned mansion's library would have featured 8m-high ceilings. Source: Caulfield Krivanek Architecture
The grand staircase drawn up for the 16 St Georges Rd mansion. Source: Caulfield Krivanek Architecture
The Chinese businessman and his wife paid $18.58 million for the property in 2013, and angered locals two years later by tearing down grand 1913 residence
Idylwilde.
Ms Bao has since listed the empty 4000sq m block with a $40-$44 million price guide, via prestige agency Kay & Burton.
Mr Caulfield said the couple had originally enlisted his firm, Caulfield Krivanek Architecture, to help them restore and extend the original house.
The former Australian Institute of Architects national president said his clients then "panicked" when Stonnington council moved to obtain heritage protection for the residence, mistakenly believing it would mean they "wouldn't be able to do anything" at all to it.
"Through interpreters, they told us, … 'we thought we'd demolish it while we can'," he said.
"They should have come to us first."
Originally published 01 August 2019 on Herald Sun