Robert Caulfield & Ivo Krivanek: Marking a 40 year milestone as partners of one of Australia's leading architectural firms
On April Fool's Day 1978, Robert Caulfield and Ivo Krivanek started their architectural practice in the front room of Ivo's Hawthorn home. 'We looked very professional,' remarks Robert, 'except if clients needed to use the bathroom, they stumbled across a normal, chaotic family home, beyond our office.' Forty years on, the founders of Caulfield Krivanek Architecture, can reflect on an enduring and successful partnership, that has seen them collaborate on over 3000 projects both locally and overseas.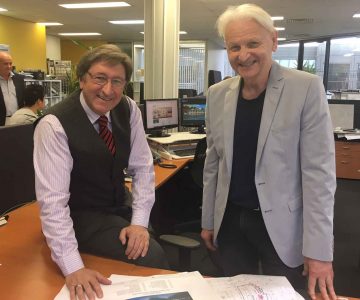 Robert & Ivo in their Camberwell Office
Read More
Lake Bellagio Resort in Daylesford, Victoria, featured in Ballarat Courier and Domain.com.au
A face lift for older facilities
A recent article by Robert Caulfield in the Aging Agenda discusses how maintaining existing facilities can keep a well run aged care business in demand.